The project funds the improvement of the physical quality of both state and non-state run ECD centers by providing grants for minor civil work and upgrading equipment and furniture. Support for minor civil works will focus on construction of toilets, water connections for sanitation, and refurbishment of facilities. The broad categories of equipment, consumables and furniture that can be provided to centers by the Project include play area equipment, toys, water filters, safety equipment, equipment for children with special needs, equipment for administrative support, consumable classroom materials, and basic furniture for students and teachers. Beneficiary centers that do not meet the government's prioritized minimum quality standards will be required to focus the support on meeting these standards.
The eligibility criteria for ECD centers applying for facility improvement grants include the following:
1) The center should either be formally registered with an approved registration authority or be recorded in the Divisional Secretariat as having been in operation for the past two years.
2) The fees charged by the center per child should not exceed the pre specified maximum amount
3) The center should have a functioning parents committee in place
4) The center should meet the following minimum criteria for a functioning center: It should have at least one teacher/teacher assistant per 25 children and adequate space.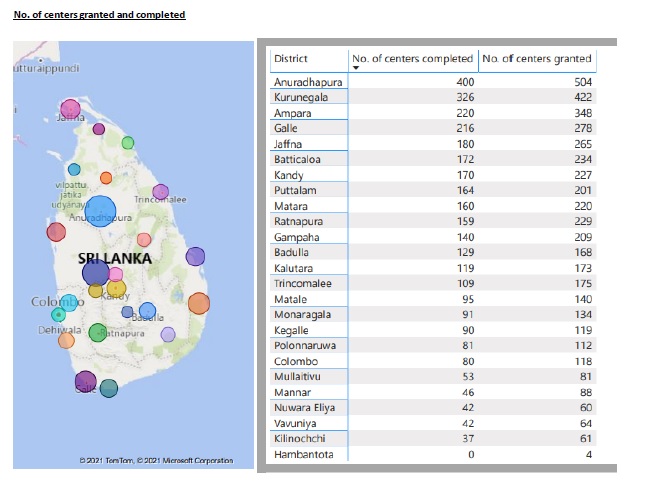 Source :- Data from ECD Project Progress Report, extracted using Microsoft Power BI Desktop.